Thermal Vision Screening Cameras
Infrared Thermal Imaging Solutions
Essentials for Thermal Vision Security Screening
Facial recognition capabilities ✓

Easy-to-use interface ✓

Systematic and repeatable process ✓

Allows uninterrupted pedestrian traffic flows ✓

Provides visual and audible alerts ✓

Screening for Known / Unknown individuals ✓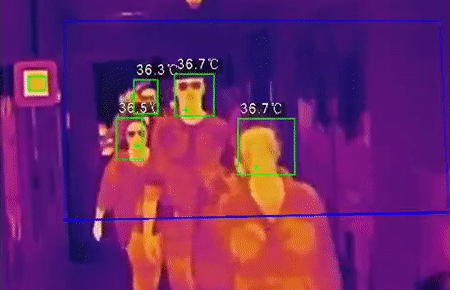 This product is NOT a Medical Device.
It is NOT intended for the diagnosis, prevention, monitoring, treatment or alleviation of a disease, injury or disability.
What is Thermal Vision Screening?
Thermal Vision Screening is the ideal method for conducting preliminary screening safely, effectively, and efficiently. Our solution provides a non-invasive process that can screen delegates or personnel at safe distances and provide instant safety alerts. The solution also has fast and precise facial recognition capabilities to ensure the safety of everyone entering a building or venue. After extensive research and evaluation, we have found the solution that meets the high Congress Rental standards, to cover a wide range of applications and needs.
Benefits of Thermal Vision Screening
Non-Invasive
A long range of up to 4.5m gives the ability to screen people without contact, even while they are wearing a mask.
Fast
Our thermal camera scans people as they walk past at a rate of up to 30 people per second so there is no need to queue.
Risk Reduction
Reduce risk by maintaining proper social distancing between individuals in large crowds.
Facial Recognition
Facial recognition allows you to screen for known and unknown individuals for extra security.
Thermal Vision Screening for every scenario
Fast and effective way to protect your delegates
​
Reassure delegates their safety and comfort are a top priority

Fast deployment as a portable/mobile solution

High-speed screening to eliminate queues

Screening attendees before entering the venue reduces risk for staff and organisers

Facial recognition capabilities